This store requires javascript to be enabled for some features to work correctly.
hi, let's sniff butts
customizable silicone pet ID tags
we love our pets and want to provide the best for them. that's why Besties Pets offers silicone pet ID tags to customize your love. kiss those days of noisy ID tags goodbye because our customizable tags are jingle-free. Traditional metal ID tags interfere with the way your pet listens & interacts with the world around them. We eliminate that with our silicone pet ID tags. Only the best for your bestie, right?
Make your furry friend the most stylish pup on the block with one of our adorable hats. With 3 styles to choose from, a variety of colors, and each featuring an adjustable strap, you are sure to find the perfect fit!
design your own name tags
choose from dozens of designs and colors to create a pet ID tag that stands out from the pack
shop now
we're the strong & silent type
besties 100% silicone tags are jingle-free, durable, flexible, and resilient. metal tags scratch and fade, silicone stands the test of time.
classic name tags
these classic dog tags pair a modern geometric shape with a fun pop of color, with your choice of 5 unique fonts.
shop now
get your pet home faster with a qr code id tag
Your free Pet Profile contains all of the information necessary to get your pet home safely.
our entire assortment of tags are available with a qr code on the back.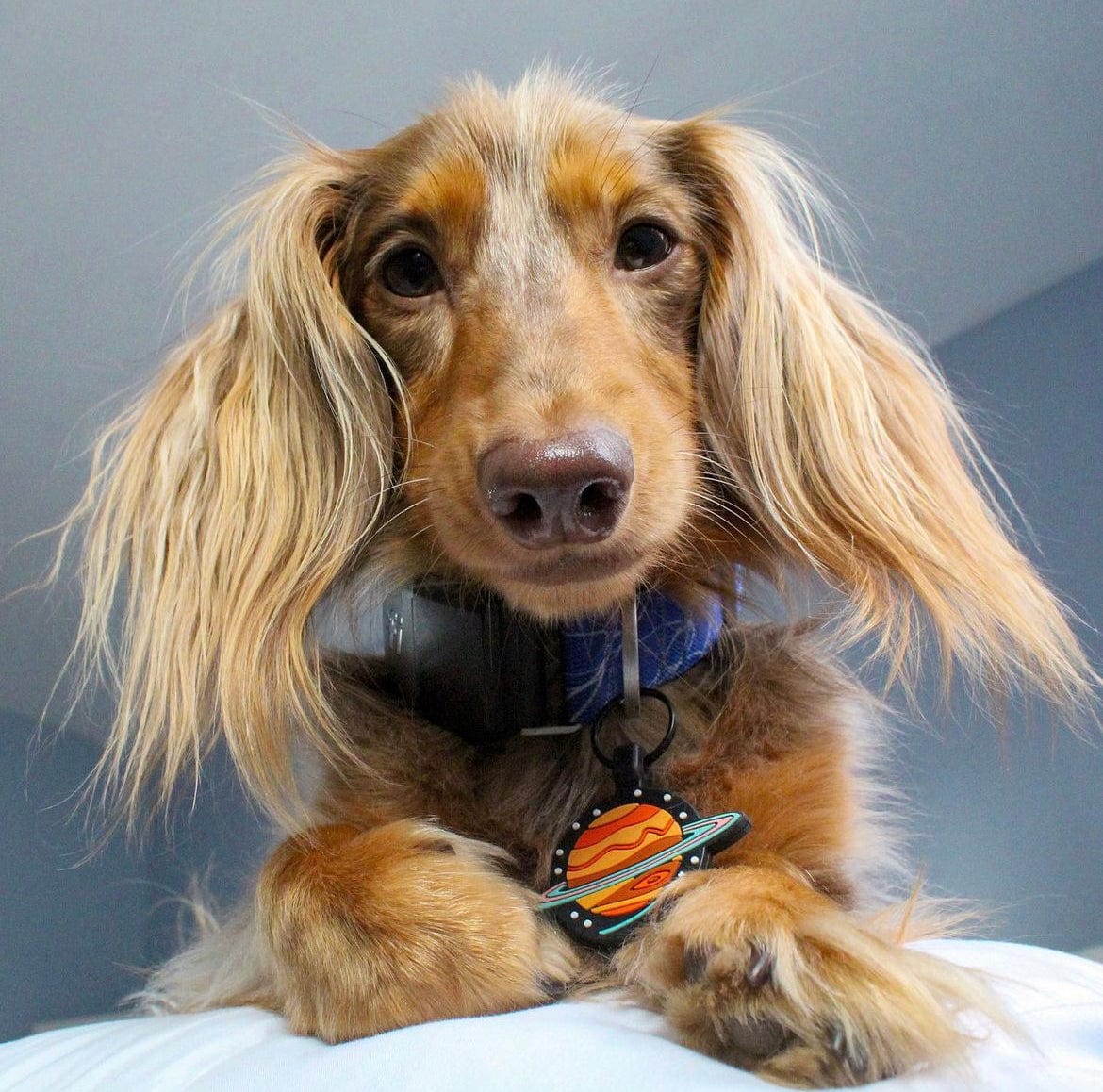 graphic dog id tags
whether your pup is an adventurous mountain mutt or a cuddly couch potato, channel your bestie's personality with a tag that's as unique as they are.
shop now
what pet parents are saying
"This tag is so cute online and even cuter in person! I love all the different color choices and that there's lots of space for customizing the back. The silicone means the tag is quiet (as promised!) and also really makes it stand out when my dog is wearing it. "

Anna J.

"I absolutely love our new Besties tag! My dog is pretty rough on her gear and these have proven to be super durable and withstand everything she puts them through! Plus we love that they're silent and easy to clean."

Rita A.

"We really love our new Besties ID tag for our dog Trax! We love the design and that we got to write a message on the back if he gets lost ❤️ Also a favorite is that it makes no sound! It also makes him look more handsome than he already is!"

Lindsay T.
one for you and one for your bestie
if you aren't wearing matching tags are you really even besties?
shop now
silicone airtag holders
our airtag holders are sleek, durable, and scratch resistant, offering ideal protection for your pet's apple airtag.
shop airtag holders
fray-proof collars
our biothane collars are 100% waterproof, which makes them perfect for your favorite water-loving, ball-chasing, hole-digging, mud-rolling, all around adventure pup.
shop collars
Jingle-free
Let's be Besties and enjoy the sweet, sweet sound of silence.
Safe
With our deep engraving and high contrast, you can rest assured that your emergency contact information is always legible when you need it most.
Durable
Besties 100% Silicone tags are strong, flexible, and resilient. Metal tags scratch and fade, but silicone stands the test of time.
Adorable
Stand out from the pack with our eye-catching designs.